Beste groentenliefhebber,
ben jij geïnteresseerd in een wekelijkse Groenhartig groentebox, boordevol lokale en ecologische groenten, kruiden en andere seizoensgebonden lekkernijen? Hieronder vind je de informatie over onze groentenabonnementen en het aanmeldformulier.
Elke week vanaf 5 mei, gedurende 30 weken een pakket
Elke vrijdag op te halen in elk stadsdeel binnen de ring
Ecologisch geproduceerd met alleen natuurlijke middelen en een grote dosis liefde en aandacht!
De Groenhartig-methode
Ons doel is om met het ecosysteem rond onze tuinen te werken. Hierdoor ondersteunen we de gezondheid van het land terwijl we hoogwaardige producten kweken voor onze leden.
Alles begint met de bodem. We geloven dat een levende bodem gezonde planten groeit. Alles wat we telen, blijft binnen onze plaatselijke straal.
Onze bloeiende en eetbare heggen en wilde planten bieden onderdak en voedsel voor insecten en andere dieren, die op hun beurt onze groenten bestuiven en onze plagen verjagen.
Dear local food fan,
are you interested in getting your hands on a weekly Groenhartig veggie box, full of local and ecologically grown veggies, herbs, and other seasonal goodies?
Below you'll find the details on the membership and the sign up form.
Starting the 5th of May a weekly box of produce

Pickup every Friday or Saturday in every part of the city

Grown with love, care and attention, both for the products, and the environment around us!
The Groenhartig way
Our goal is to work with the ecosystem surrounding our gardens. In doing so, we support the health of the land while we grow high-quality produce for our members.
Everything starts with the soil. We believe a healthy living soil breeds healthy plants. Everything we grow stays in our local radius.
Our flowering and edible hedges and wild plants provide shelter and food for insects and other critters, who, in turn, keep our veggies pollinated and our pests under control.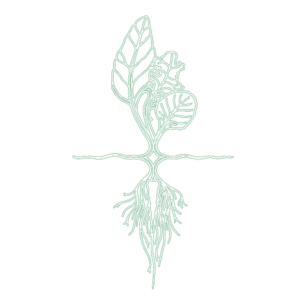 Wat krijg je?
Je krijgt een wekelijkse selectie van groenten, kruiden, salades, seizoensgebonden paddenstoelen, microgreens en fruit. Het grootste deel van de inhoud van jouw box wordt door ons gekweekt op een van onze percelen in Amsterdam West.
De rest wordt geleverd door een paar ecologische boerderijen in de regio. Afhankelijk van de seizoensbeschikbaarheid krijg je een goed afgeronde mix van bekende en eigenzinnige gewassen. Houd onze nieuwsbrief in de gaten, want daar delen we de inhoud van de komende groentebox (evenals tips en tricks over wat je ermee kunt doen). Je kunt je aanmelden voor onze nieuwsbrief onderaan onze website homepage.
De twee soorten pakketten:
Individueel pakket
Dit pakket bevat ongeveer 6 a 7 soorten groenten, kruiden en soms andere versproducten zoals paddenstoelen en/of fruit.
Genoeg voor ongeveer 5 tot 6 maaltijden voor 1 persoon.
Of 3 tot 4 maaltijden voor 2 personen
€22,50 per week (inclusief bezorgen naar afhaalpunt).
€675,- voor het hele seizoen
Gezinspakket
Dit pakket bevat tussen de 7 en 8 soorten groenten, kruiden en soms andere versproducten zoals paddenstoelen en/of fruit. En wat grotere hoeveelheden per soort.
Genoeg voor 4 tot 5 maaltijden voor 2 personen of een klein gezin.
€33,- per week (inclusief bezorgen naar afhaalpunt).
€990,- voor het hele seizoen.
Wanneer en hoe lang?
Het groentebox abonnement duurt 30 weken van het kalenderjaar. Het begint in de eerste week van mei (week 18) en eindigt in de laatste week van november (week 48). Je kunt de box elke vrijdag ophalen bij Groenhartig, of bij een van de ophaalpunten in Amsterdam.
Welkoms-email
Eenmaal geregistreerd voor een box, krijg je een 'welkom' e-mail met alle informatie, inclusief een link naar de Whatsapp-groepen. In deze groep updaten we je wanneer de boxen worden geleverd aan hun respectievelijke punten (er is geen spam.)
De boxen kunnen worden opgehaald op de dag van levering of de volgende dag. Als je de collectie mist, wordt het een cadeautje voor het ophaalpunt. Mits je ze natuurlijk even belt.
Afhaallocatie
De afhaallocaties spreken we in overleg af via de email. Het kan zijn dat een afhaalpunt te vol wordt en niet meer beschikbaar is. U kunt hier wel aangeven welk afhaalpunt uw voorkeur heeft. We wijken hier bijna nooit van af.
Het ophaalpunt dat je kiest wordt jouw vaste ophaalpunt. In uitzonderlijke gevallen zoals verhuizing of als tijdens je vakantie iemand anders het pakket ophaalt kunnen we het aanpassen.
U kunt de beschikbare afhaalpunten hier vinden. 
What are you getting?
You'll get a weekly selection of vegetables, herbs, salads, seasonal mushrooms, microgreens, and fruit. Most of the contents of your box are grown by us in one of our plots in Amsterdam West.
The rest is supplied by a few ecological farms in the region. Depending on seasonal availability, you'll get a well-rounded mix of well-known and quirky crops. Keep an eye on our newsletter, as we share the content of the upcoming veggie box in there (as well as some tips and tricks on what to do with it). You can sign up to our newsletter at the bottom of our website homepage
The two types of veggie boxes:
Individual box
Contains 6 to 7 types of vegetables, herbs, and occasionally mushrooms and/or fruit
Enough for about 4 to 6 meals for 1 person
Or 3 to 4 meals for 2 people
€22.50 per week (which includes the delivery to collection point)
€675,- for the whole season.
Family box
Contains 7 to 8 types of vegetables, herbs, and occasionally mushrooms and/or fruit in somewhat larger sizes or portions
Enough for 4 to 5 meals for a couple or a small family
€33 per week (which includes the delivery to collection point)
€990,- for the whole season.
When and how long for?
The veggie box subscription lasts for 30 weeks of the calendar year. It begins in the first week of May (week 18) and ends in the last week of November (week 48). You can pick up the box every Friday either at Groenhartig, or at one of the pickup points across Amsterdam.
Welcome email
Once you register for a box, you'll get a 'welcome' email with a bunch of information including a link to the Whatsapp group. In this group, we update you when the boxes are delivered to their respective points (there's no spam.)
The boxes can be collected on the day of delivery or the following day. If you miss the collection, it becomes a gift for the pickup point. Although informing the people at the pickup point will help a lot.
Pickup points
The pickup points are finalized through email. Some pickup points have a limited capacity. You can however let us know here what your preferred pickup point is. We rarely need to deviate from this.
The pickup location you choose becomes your regular pickup point. If you have an exceptional circumstance, like needing someone from the other side of town to pick up your box while you're away, or you've moved house you can change it.
You can find the available pickup points here.
Helaas gebeurt het wel eens dat het registratieformulier niet is aangekomen. 
Als u binnen twee dagen niks hoort, stuurt u dan een mailtje naar:
Michel(apestaartje)groen-hartig.nl
Sadly we are experiencing some issues with the registration form from certain browsers. 
If you haven't gotten a reply within two days please email us at:
Michel(at)groen-hartig.nl