Ook in de winter gaan we door in de vorm van een winterabonnement. Deze begint in week 49 (9 december) tot en met week 17 (28 april 2023).
U krijgt om de 2 weken op vrijdag een pakket met mooie bladgewassen uit eigen kas, (vergeten) wintergroenten, biologische paddenstoelen, kiemgroenten, fruit en ook wat heerlijke ingemaakte producten! Dit zijn in totaal 11 pakketten. De reden dat we dit om de twee weken doen is dat veel wintergroenten langer bewaarbaar zijn.
U kunt het pakket ophalen bij een van onze afhaalpunten.
Het medium pakket bevat genoeg groenten voor ongeveer 4 a 5 maaltijden per week voor 2 personen. We hebben ook een optie voor een groter pakket. Deze bevat ongeveer 1.5x de hoeveelheid groenten voor grotere gezinnen of woongroepen.
Het medium pakket kost €25,- per pakket (€275,-).
Het grote pakket komt op €37,- per pakket (€407,-).
Vragen of aanmelden via ons contactformulier hieronder!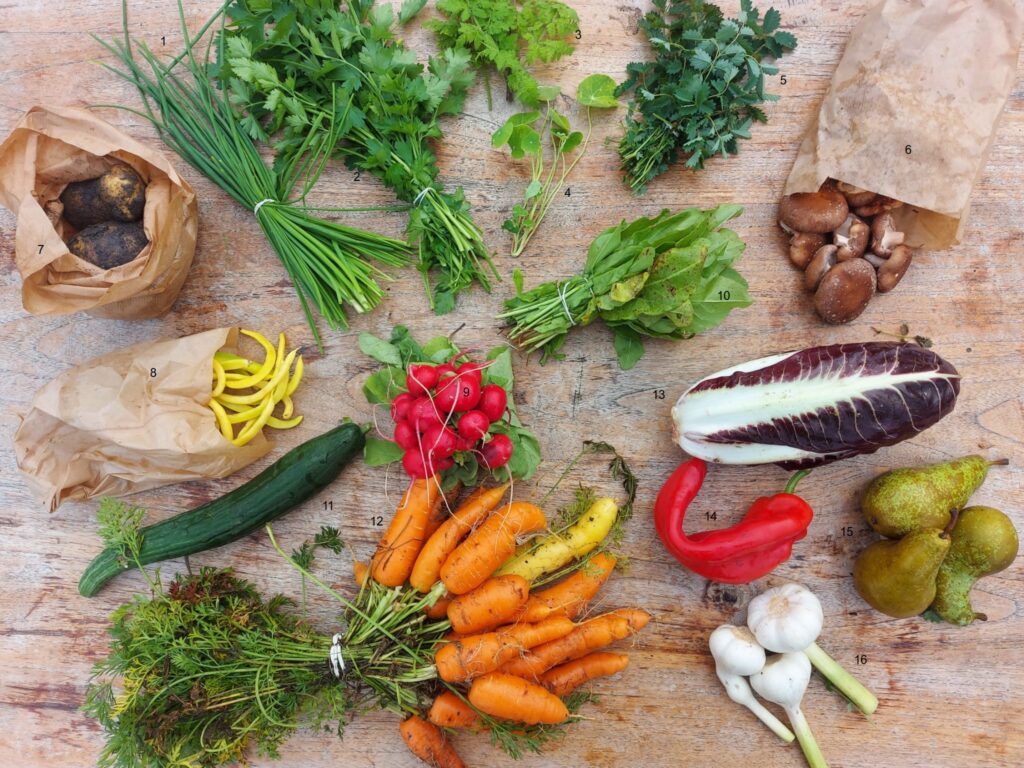 We will continue in the colder seasons with our winter subscription starting in week 49 (December 9th) and will continue until week 17 (28th of April 2023).
Every two weeks you will receive a crate filled with leafy greens, (forgotten) winter vegetables, organic mushrooms, sprouts, fruit and some delicious pickled or fermented products. This means you will get 11 crates in total. The reason we are doing a box every two weeks is the storability of a lot of winter veggies.
The veggies can be collected at our pickup points.
The medium box contains enough produce for about 4 to 5 meals a week for two people. We also have the option for a bigger box for larger families and communal living groups. This one is roughly 1.5 times the size of the medium box.
The medium box costs €25,- per box (€275,-).
The large box €37,- per box (€407,-).
Questions or registration through the contact form below!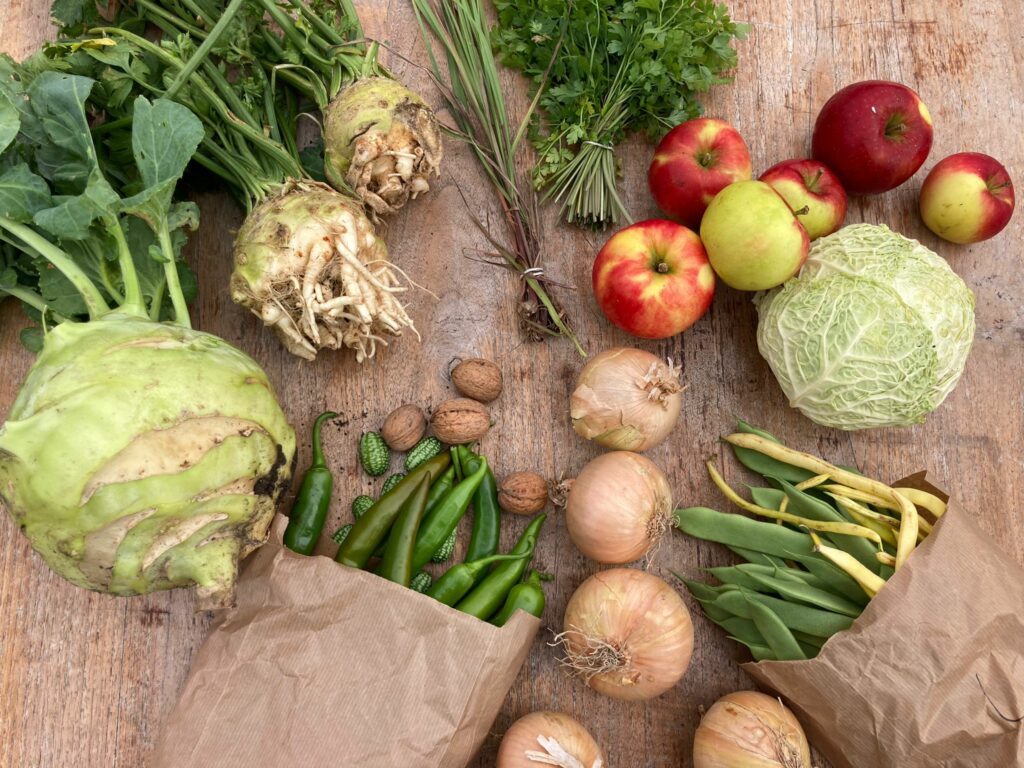 Wil je ook genieten van mooie ecologisch geteelde lokale producten? Meld je dan aan voor een groentenabonnement! Je ontvang elke week een pakket met lekkere groenten, kruiden, paddenstoelen en fruit.
Ook steun je daarmee een duurzaam stadslandbouwinitiatief!
Doordat we veel werken met restaurants in Amsterdam telen we een groot assortiment aan heerlijke bekende en onbekende producten in onze tuinderij. Daarnaast werken we ook steeds meer samen met eco- en bio-telers uit de omgeving die ons assortiment verder aanvullen met mooie verse seizoensproducten.
Naast ons zomerabonnement bieden we nu ook een winterpakket aan. Kijk onderaan deze pagina voor meer info.
 Download de pdf hieronder en vul deze in. U kunt deze het beste even printen en invullen als een handtekening noodzakelijk is (alleen bij termijnbetalingen). Als u dan een goede foto maakt en deze opstuurt is dit prima. In de pdf staan een aantal opties en qua formaat, prijzen en wat andere informatie.
Als u alles heeft ingevuld en ondertekend kunt u deze opsturen via het contactformulier hieronder. Dan kijken we samen naar het gewenste afhaalpunt en moment en krijgt u verdere informatie en betaaloptie in de mail. De afhaalpunten hebben in sommige gevallen beperkte capaciteit, dus deze zijn altijd in overleg. Het is momenteel niet mogelijk om wekelijks te wisselen. Een enkele keer wisselen vanwege bijvoorbeeld een verhuizing of als iemand anders het ophaalt vanwege vakantie is geen probleem.
De pakketten worden elke vrijdag geleverd bij de afhaallocaties.
Would you like to enjoy weekly locally grown fresh produce? Sign up for a Groenhartig membership box and receive a box of delicious eco-grown salads, veggies, herbs, fruit and mushrooms. 
You also support a sustainable urban farming initiative!
We also work with a lot of restaurant chef's in Amsterdam. This means we have been cultivating a large selection of delicious products in our gardens. Both known, and more obscure products. Besides that, we also work together with ecological growers that supplement our weekly availability with fruit, mushrooms, herbs and more vegetables.
Besides our regular summer subscription, we also started a winter subscription. Check further below for more info.
Download the pdf below and fill in your details. You will find the prices and subscription options in the pdf as well as some other information. The signature is only required when paying in installments. Otherwise you can also send us your information in the mail with a copy of the contract and a payment will suffice.
When you filled in the PDF and signed it, please send it through the contact form below. We will then discuss pickup point options and other information and send you a payment link for the first (or only) installment. Some of our pickup points have limited capacity so this will always need to be looked at. It is not possible to chang pickup points every week. A rare occasion such as moving houses, or a temporary situation when someone else picks it up during a holiday can be looked at.
The pickups are on Tuesday and Friday at the pickup points (day depends on the pickup point).